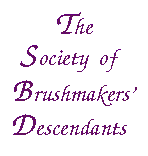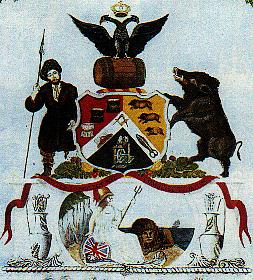 The SBD is here to help those researching brush or broom maker ancestors and their families.
We have many members in the UK and Worldwide.
---
25th Anniversary Offer!
Membership is Just £15 for Life!
Pay by Credit Card via Paypal https://www.paypal.com
payable to kdoughty@ntlworld.com - a PayPal Account is Required.
(A friend who buys on eBay may be able to help you with this )
Pay by UK cheque/P.O. to
Society of Brushmakers Descendants
13 Ashworth Place
Church Langley
Essex
CM17 9PU
UK

What do I get as a Lifetime Member?



Each New Member will be given authority to join the SBD' s

Private Bulletin Board

, on which they will be able to read members' messages and post their own via e-mail.
Members may contact each other via the Board.
The Board contains many thousands of posts from members, and articles, text files, videos and pictures for free download.
Download the rare 1983 Society of Brushmakers History video.
Members can download Society Journals for free.
Members can download the 1829 and 1851 Lists of Journeymen, which contain names and locations of hundreds of brushmakers.
Members can view indexes to every SBD Journal and to the 19th Century Lists of Journeyman Brushmakers.
These Lists and Journals are available to members via the Society.
It is intended that ALL SBD Journals will be made available for free download to members via the Board.

You may also post your own text files and pictures. Messages to the Board are permanent and will be stored in an archive which can be viewed by other members.


You may purchase the unique publications and pictures produced by the SBD including the extremely rare 19th Century "Lists of Journeyman Brushmakers" for 1865 and 1869, that list UK brushmakers by area.



Your details will be published on the "Members Interest Names" section of this site, and your contact details will be made available on the Brushmakers Board so that other members may contact you directly and vice versa.




(details can include your home address and a phone number, or just an email address, if you desire)





(information on how to access the BBS will be sent after receipt of your membership fee)





There is no time limit on your membership once you have paid your initial fee

!
NO RENEWALS - EVER!

Please note: I view members' messages to the board regularly and will reply to all enquiries there.
---
EMAIL: sbdfhs@yahoo.co.uk

Sorry, I cannot deal with enquiries on specific brushmakers/names except via the Bulletin Board.

Pay by Credit Card via Paypal
(payable to kdoughty@ntlworld.com)
Pay by UK cheque/P.O. to
Society of Brushmakers Descendants
13 Ashworth Place
Church Langley
Essex
CM17 9PU
UK